New School Support Online Portal Launches


After extensive consultation with school boards and association stakeholders, MPAC has launched a new online portal to modernize school support data collection following the legislative change to Section 16(3) of the Assessment Act, which allows MPAC to collect school support information electronically.
The new online application makes it easier for property owners and tenants registered with MPAC to change their school support. For more information, check out the user guide available on mpac.ca.
Farm Forestry Exemption SANs Have Been Mailed


On March 20, MPAC mailed more than 21,500 Farm Forestry Exemption (FFE) Special Amended Notices (SANs) to Ontario property owners who qualify for the exemption, indicating a change to the property's eligible acreage and classification.
Previously, the tax exemption applied to one acre of forested land for every 10 acres of farmland and could not exceed 20 acres in any one municipality. The provincial government increased the FFE acreage cap from 20 to 30 to keep pace with
the growth of farm sizes for the 2023 and subsequent taxation years.
With the SAN, property owners also received a special insert that explains changes to the FFE and why they are receiving it. A sample of the SAN is available here. Property owners can access their FFE calculation and see the information MPAC currently has on file for their property by logging in to AboutMyProperty.
The Latest from our Municipal Liaison Group Meeting


On March 10, members of our Municipal Liaison Group (MLG) met virtually for a valuable information-sharing session. The purpose of the MLG is to facilitate an open exchange of information between the municipal sector and MPAC about matters pertaining to property assessment and MPAC initiatives. At this meeting, MPAC updated the group about the Farm Forestry Exemption roll-out process, MPAC's Service Level Agreement (SLA) performance for 2022, and our focus on getting out to meet with new and re-elected municipal mayors and councillors.

MPAC also reported on a new Data Sharing and Service Agreement (DSSA) that has been developed in collaboration with a Municipal Working Group of our MLG. The DSSA will update and consolidate numerous existing MPAC-municipal agreements, such as our SLA, Licensing Agreements, and Data Use Terms and Conditions, and will be rolled out to municipalities in Q2. Stay tuned for more on this project.
If you would like more information or wish to discuss any of these initiatives, please contact your MPAC Account Manger.
Property Insights on Self-Storage Facilities
This month we released a new property insights campaign about the evolution of self-storage facilities in Ontario.
We found that there are now 37.3 million square feet of commercial self-storage space in the province – or the equivalent of the total ice surface of approximately 2,200 NHL rinks.
In the last three years alone, more than 4.2 million square feet – an increase of about eleven per cent – has been added to the storage footprint, with additional growth on the horizon.
"There are a number of factors contributing to the self-storage boom, such as smaller dwellings – particularly condominiums – providing less space to store personal possessions," says Greg Martino, MPAC Vice-President and Chief Valuation and Standards Officer. "The pandemic may have also added to this trend, with more people working from home, looking to store items that have accumulated in their living spaces, downsizing or undergoing renovations."
The self-storage increase is consistent with data we released in 2022, showing Ontario condominiums are 35 per cent smaller on average than they were 25 years ago.
In case you missed it: Farm Tax Incentive Program Overview
The Ontario Ministry of Agriculture, Food & Rural Affairs (OMAFRA) and Agricorp joined MPAC subject matter experts for an overview of the Farm Tax Incentive Program. Watch the recording of our March 9 webinar for an overview of the program's administration and process for municipalities from application through approval. Other topics discussed included consolidation and severance, TIAs, and TIYs.
In case you missed it: MPAC 101

–

Our Role in the Property Tax
and Assessment System
MPAC's subject matter experts Anne Haines, Regional Manager, Southwestern Ontario, and Jon Hebden, Regional Manager, Golden Horseshoe, in partnership with Theresa Parzei, Senior Economist, Property Tax Policy Unit, Ministry of Finance, presented an overview of Ontario's property tax and assessment system, including MPAC's role, the three approaches to valuation, and how assessment concerns are resolved. Watch the recording of our March 23 webinar and learn more about the relationship between property values and taxes, as well as programs and tools for managing reassessment changes.
You can find us at the following conferences in April:
Ontario Business Improvement Area Association (OBIAA) conference in London, April 16 to 19
Northwestern Ontario Municipal Association (NOMA) conference in Thunder Bay, April 26 to 28
Ontario Small Urban Municipalities (OSUM) conference in


Brant County

, April 26 to 28
Be sure to drop by and chat with our MPAC team to learn more about how we're supporting municipalities through innovative programs and services.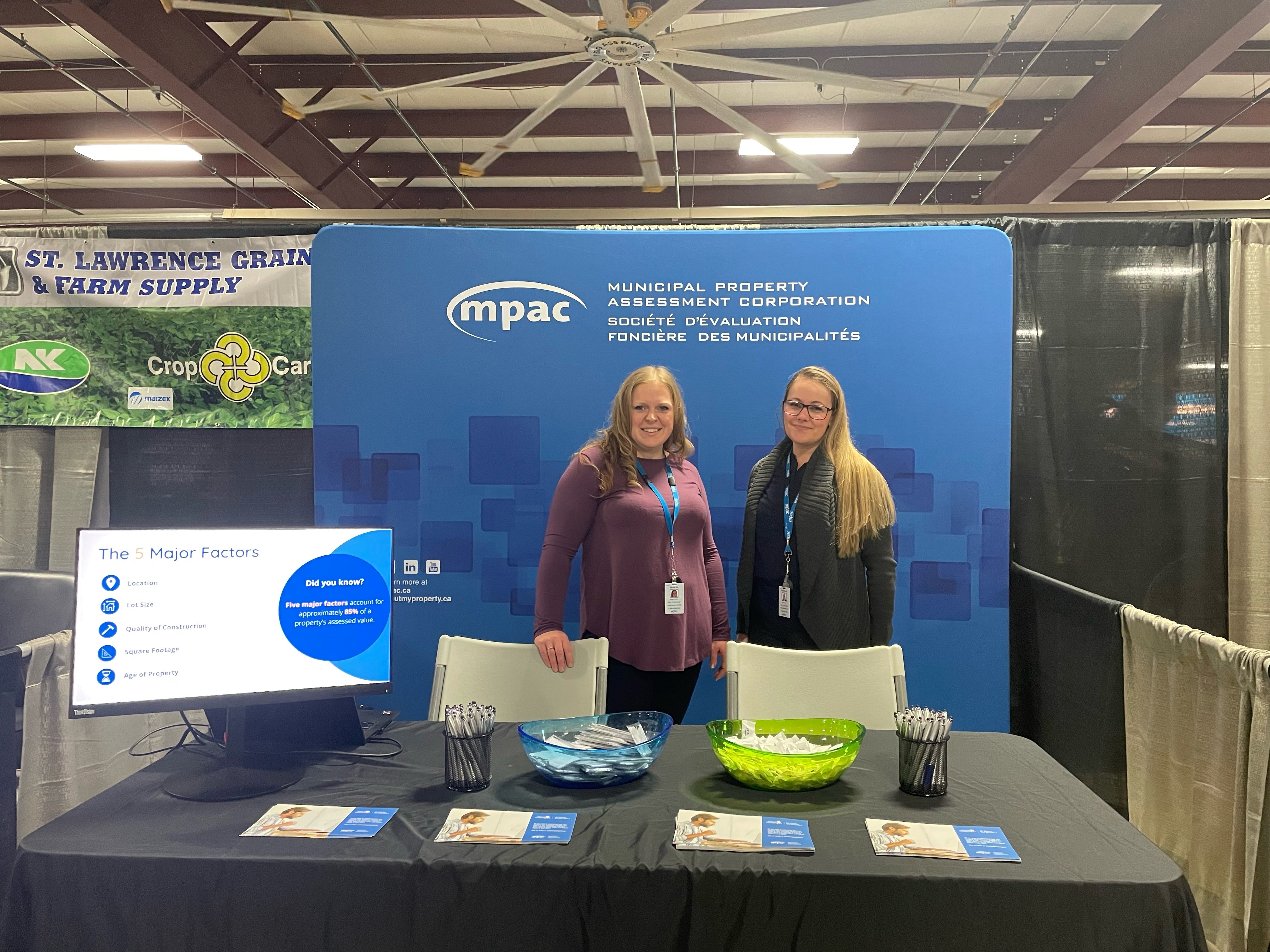 In early March, Account Manager Sarah Groves and Account Support Coordinator Victoria Anderlich were on hand to chat with visitors at the East Central Farm Show in Lindsay.
In the Field with our Northern Ontario Team

Over the past few months, our Northern Ontario Municipal and Stakeholder Relations team has focused on meeting with new and re-elected officials and supporting their enquiries.
"It's important that we connect with elected officials early in their terms so that we can share information about the important role we play in the property tax and assessment system," says Laura Voltti, MPAC Regional Manager. "It's also about councillors knowing who they can reach out to with questions on local matters. We want council to know that we're available to them and having conversations early can be of great benefit."
Since new councils have taken office, our Northern Ontario team has completed or scheduled engagements in almost 50 municipalities – whether it be council delegations, one-on-ones, or group orientation sessions. Recently, Thunder Bay Account Manager, Sharla Knapton joined Kristen Oliver, Councillor, Westfort Ward, City of Thunder Bay at an information session in her ward. Partnering for this session gave residents a full picture of how Ontario's property assessment and taxation system works, including MPAC's role, how we assess properties, the relationship between assessment and taxation and where to go for questions or concerns about their assessment.
"I value the open communication and great working relationship I have with my Account Manager at MPAC," says Oliver. "Gaining a thorough understanding of MPAC's role and assessment and taxation in general enables me to provide valuable information to the community I serve. It was a pleasure having Sharla attend my recent ward meeting, where we worked together to educate residents and dispel assessment and taxation myths."
If you are interested in having MPAC lead an information session for your Council, we invite you to contact your Municipal and Stakeholder Relations Account Manager to schedule a meeting or to learn more.
MPAC Account Manager Sharla Knapton and Councillor Kristin Oliver at an information session in the City of Thunder Bay.
We invite you to get to know us!
Every municipality has their own dedicated account management team at MPAC. They are the best resource for municipal staff and elected officials should your municipality have any questions related to MPAC and our work. Reach out to your local Municipal and Stakeholder Relations Account Manager to learn more.